The Montgomery
Posted:
May, 23, 2014 |
Categories:
Atlantic Builders | Decorating your Atlantic Builders Home | Fawn Lake | Fredericksburg | Fredericksburg Area Association of Realtors | New Home Building | New home construction in Spotsylvania | Spotsylvania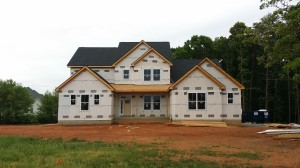 The Montgomery at Fawn Lake
Atlantic Builders newest model home is well under way at Fawn Lake in Spotsylvania County!  With installation of the Countrylane Red Hardiplank siding scheduled to start in the next few days as well as drywall, this striking home will soon be ready to show.  One of the homes in our brand new Distinctive Series, its a Montgomery floor plan built with a Craftsman Style.  This style doesnt end on the exterior either.  The theme is carried throughout the home and is reflected in the interior doors and trim, as well as the railings, stairs and windows.
With a first floor master bedroom suite plus an additional three bedrooms upstairs and starting at 3,658 sf of finished floor space on the upper two floors, this is a home with a tremendous amount of usable space.  Our crack team spent a lot of time researching homeowner desires before designing it.  Just a few of the features that are included in this and every one of our Distinctive Series of home plans are:
 Oversized islands
Granite kitchen counters
Stainless Steel appliances
Open living spaces, such as kitchens to great rooms
Large mud rooms from the garage
Larger than typical builder" garages
Large and segregated laundry areas
Walk in pantries
Walk in closets
Pocket offices near the homes nerve center -? the kitchen.
Home offices
Theres a whole lot more too.  Stay tuned for updates as we get closer to our Grand Opening.
For more information, contact Jennifer Brooks at 540-809-2025 or visit our website at AtlanticBuilders.com