Welcome to The Montgomery at Fawn Lake
Posted:
August, 15, 2014 |
Categories:
Atlantic Builders | Decorating your Atlantic Builders Home | Dining Room | Fawn Lake | Fredericksburg | New Home Building | New home construction in Spotsylvania | Spotsylvania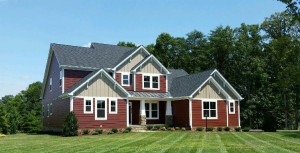 Atlantic Builders is pleased to announce the opening of a brand new model home in Fawn Lake.  Located at 11423 Bluffs Ridge, The Montgomery is sure to please your family.  Featuring a First Floor Master Suite, Two Story Family Room, Expansive Gourmet Kitchen and more, this home is perfect for family gatherings as well as entertaining.  The upper level includes three spacious bedrooms, one with its own private bath, each with large closets.
The Dining Room is just off of the foyer to the right and the Home Office to the left.  The Family Entrance as you come in from the garage has a place for school bags and is near the Laundry Room for easy access.  The Command Center is the hub of family organization and serves as a desk to keep the family calendar and charging stations all in one place.
Glen Raymond, Community Manager in Fawn Lake for Atlantic builders.
Glen Raymond has recently joined the Atlantic Builders family as the Community Manager for the Fawn Lake Community. He has worked and lived in the Fredericksburg area since the late 1980s where he also has raised his family. With nearly 4 decades of experience in the new home building industry and countless amount of new homes he has been involved with delivering you should feel assured that he will have the knowledge and experience to give you the attention needed through the entire process of  purchasing of your new home in Fawn Lake by Atlantic Builders.
Come by the model this weekend and see Glen or call him at 540-395-6535 to schedule a visit to beautiful Fawn Lake.