Homes For Our Troops Acquires Queensguard Home Site from Atlantic Builders
Posted:
September, 7, 2010 |
Categories:
Uncategorized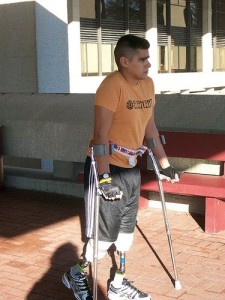 Homes For Our Troops has just acquired a lot in Atlantic Builders Queensguard community in Stafford County, Virginia. Atlantic will be acting as the general contractor for construction of a home for Sgt. Jude Recendez. The home will be similar to the home Atlantic Builders completed for Sgt. Steven Kiernan in June 2010.
Sgt. Jude Recendez suffered the loss of both his legs while deployed to Baghdad, Iraq in October 2006. Sgt. Recendez is an active outdoorsman who enjoys mountain biking, road cycling and kayaking. He is a Fine Arts student who enjoys ceramics and pottery and aspires to own his own workshop and studio upon completing his education.
Homes For Our Troops plans to complete over 30 homes in the US for severely injured veterans and their families in 2010, and as many as 40 in 2011. With the help of Atlantic Builders, Homes For Our Troops plans to complete at least one additional home in Stafford County in 2011 for Sgt. Kenny Lyons. Lyons is currently Sgt. Steven Kiernans roommate. According to David Brandon, Land Acquisition Specialist for Homes For Our Troops, There are probably over 1,000 severely injured veterans who would qualify for our program."
Atlantic Builders and our trade partners were able to complete Sgt. Kiernans home thanks to the donation of all the labor and materials. To complete the next two homes here in the Fredericksburg area, we will need other regional trade partners and suppliers to chip in so that we can continue to build the homes as close to 100% donated as possible," says Gene Brown, Vice President of Production at Atlantic Builders.
If you are a trade partner who wishes to provide labor and/or material, please contact Gene Brown at gbrown@atlanticbuilders.com .
For more information about this project please visit www.homesforourtroops.org/recendez
To make donations of time or funds please call 866-7-TROOPS or email info@homesforourtroops.org.
Adam M. Fried
Chief Executive Officer
Atlantic Builders