4 Ways Atlantic Builders Homes Make Thanksgiving Easier
Posted:
November, 4, 2022 |
Categories:
Atlantic Builders | Dining Room | New Home Building | New Home Values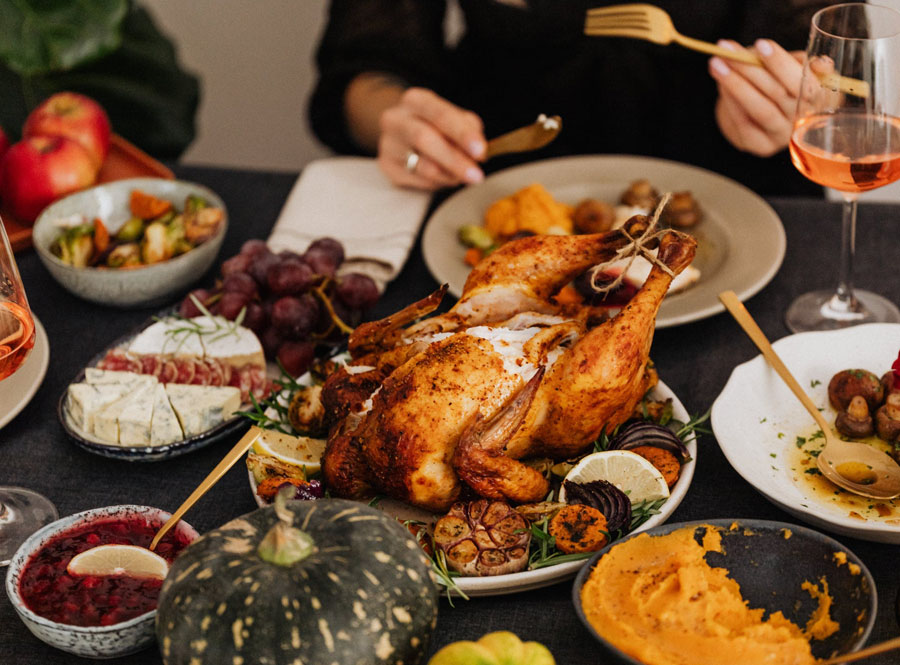 Pumpkin pie and whipped cream.
Sweet potato casserole and cranberry sauce.
Turkey and stuffing.
Stories and tradition.
Feasting and family.
Thanksgiving is made up of a lot of parts, but when they come together in the right place, it's fantastic.
And each Atlantic Builders home is just waiting to prove it's perfect for making any family thankful.
Here are four big ways our new homes make Thanksgiving—and every day!—more enjoyable, peaceful, and unforgettable.
1. Exceptional Kitchens
The heart of any home, the place where Thanksgiving is born, is the kitchen. It's where sauces are sampled, pies are baked, and dreams are shared. And when you are planning a big holiday meal, an exceptional kitchen is a must. Every Atlantic Builders home has a kitchen that's ready to get you cooking! Let's look at the one in The Chesapeake single-family home design at Overlook in Stuarts Draft, VA. This spacious kitchen with a large island, flows into the breakfast nook, family room, and formal dining room for ease of getting food to hungry mouths. Plus, an optional island expansion adds even more space to both prep/display and seated areas of this invaluable part of the kitchen.
2. Dining Rooms
If the kitchen is where all the magic happens, then the dining room is the main stage in any food-centric celebration. It's where family and friends meet, break bread, and share their stories. So, especially for Thanksgiving, it's got to be just right. And Atlantic Builders makes sure it is! Take a peek at The Emerson single-family home design at Fallen Oaks in Nokesville. Here, a formal dining room is connected to the kitchen with a small hallway, keeping the cooking space separate from the eating space. This gives you a great way to keep the drips and mess in the kitchen (for after-dinner cleanup), while keeping your dining space pristine, polished, and ready to enjoy all your Thanksgiving fare.
3. Entertaining Spaces
Before and after the big meal, your family and friends are going to need to space to relax and socialize. Part of many Thanksgiving traditions involve watching parades, snoozing in front of an old movie, or cheering for favorite sports teams. To do that, you're going to need entertaining space—something Atlantic Builders homes have in abundance. Take, for example, our Sienna townhome design at Foxcroft in Spotsylvania County. A large great room is situated adjacent to the spacious kitchen, which makes grabbing more snacks or refilling drinks a snap. Add an optional deck, and your partygoers will be thankful for the ability to easily take the party outside straight from your great room.
4. Spare Bedrooms
Your guests have now happily devoured your cooking, marveled at your exquisite dining room table decorations, and continued to enjoy your hospitality and snacks. But now it's late, yawns replace conversation, and guests begin to realize how much they desire sleep. Your Atlantic Builders home is ready to ferry everyone to dreamland. If you lived in our Bridgewater single-family home design at Liberty Hall Estates in Fredericksburg, you'd get to slumber in your first floor owner's suite, while overnight guests could enjoy their privacy in two bedrooms on the other side of the home with a convenient full bath. Your lower level would also be able to accommodate even more, depending on the configuration of your rec room, den, and other options.
Atlantic Builders has delivered thousands of new homes for over a quarter of a century that create welcoming places for families to celebrate special days and every regular day in between. Come experience the difference. We can even build you a home on your own land, created just for you and your many holidays. Now that's something to be thankful for!