But the fire is so delightful…
Posted:
February, 7, 2015 |
Categories:
Atlantic Builders | Decorating your Atlantic Builders Home | Executive Series | Fawn Lake | Fredericksburg | New Home Building | New Home Construction in Fredericksburg | New home construction in Spotsylvania | Oakley Reserve | Spotsylvania | Stafford County | The Whitman II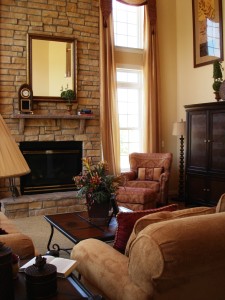 We heard on the news that the groundhog saw his shadow so we are in for 6 more weeks of winter.  We have had several threats of snowstorms here in Virginia but for the most part, we have had very little snow so far.
Winter is the perfect time to get cozy by the fireplace and read a new book, have a cup of cocoa or play a board game.
A fireplace can be the focal point of the room in your home. It adds warmth, a place for seasonal decorating and a great place to take a family photo!
Gas fireplaces offer the look of a wood fireplace with a no-nonsense hands-off appeal.  Remote control start, Intellifire  Ignition system and Direct Vent Technology are just some of the features of the fireplaces available for an Atlantic Builders home.
The Smart-Stat is an added level of function and convenience for your fireplace. Includes on/off, temperature readout , thermostat mode and timer mode.
The Intellifire Ignition System is an advanced intermittent pilot ignition system.  This system constantly monitors ignition, ensures safe functioning and conserves up to $10/month in energy costs.
With Direct Vent fireplaces, 100% of combustion exhaust and fumes are removed from your home.  The sealed fireplaces provide optimal heat, conserve energy and ensure clean, safe indoor air quality.
The family room or great room can also be a place for everyone to gather to watch movies or play video games.  Positioning the television so it is in the best viewing area, combined with the focal point of the fireplace can be challenging.  At Atlantic Builders, we carefully consider placement and even have a representative from our Low Voltage company to attend every Design Center Appointment to help with the selection of the best place for the television, whether it is going to hang above the fireplace or be placed on an adjacent wall, we can help you decide.
With a beautiful selection of painted wood mantles and marble surrounds or the optional Stone façade and stained mantles, you are sure to find a style that best suits your decorating style.