What is the HERS index?
Posted:
April, 10, 2012 |
Categories:
Atlantic Builders | Energy Rating System | HERS Index
HERS stands for Home Energy Rating System. It identifies the rated homes energy performance compared to a home built only to code requirements. A standard, code-built home has an index of 100. Each point below 100 represents a 1% improvement in overall energy performance. For example, a home with a HERS index of 70 is 30% more efficient than a standard, code-built home. Note that a home can be Energy Star-certified with a HERS index of 85. Atlantic Builders homes perform much better -? with average scores of 62 -? 65. And a better HERS index means more savings for our homeowners!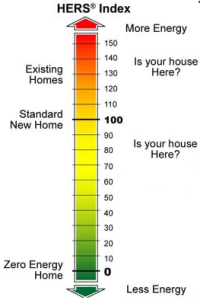 HERS scores:
Atlantic Builders -? 62-65 avg. HERS score
Energy Star home -? 85 avg. HERS score
Standard new home built to code -? 100 avg. HERS score
Existing home -? 130 avg. HERS score
Estimated average utility bill:
Atlantic Builders – $138/month
Energy Star home – $180/per month
Standard new home – $223/month
Existing home – $431+ /month